Samstag, 7. November wegen Krankheit geschlossen
Öffnungszeiten Mittwoch - Samstag 13.30 - 19.00
und nach Vereinbarung
office@abcontemporary.com
Mittwoch, 11.11. Einführung in das Werk der Künstlerin von Olga Stefan
                     Keren Cytter
                                                                           4. November - 8. Januar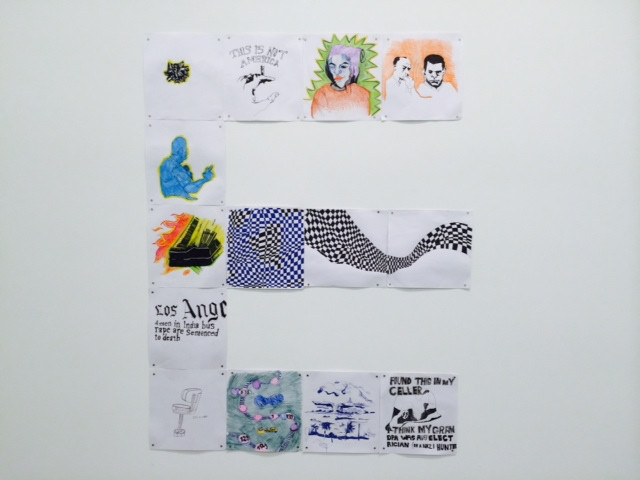 In her 2nd solo show in Zurich,
Keren Cytter will display one new video, Game,
and two older ones: Siren and Ocean.  
Her 60-piece drawing installation, HOME, was shown recently
in her solo exhibition at the MCA Chicago.
Curated by Olga Stefan
With the kind support of Omanut
Verein zur Förderung jüdischer Kunst in der Schweiz.
Keren Cytter is best recognized for her experimental video works that illuminate both the realms of the interpersonal and the private spheres. The works of Keren Cytter are often based on templates of literary or cinematic classics, while simultaneously they reflect the influence of the media.  She recently had a solo show at the Museum of Contemporary Art, Chicago.  The drawings from this exhibition will be shown at ABContemporary in November.
Keren Cytter - Biography
Keren Cytter was born in 1977 in Tel Aviv, Israel, where she has studied visual art in the Avni Institute of Art. After several successful exhibitions in Israel, Keren Cytter was granted a scholarship from De Ateliers and has relocated to Amsterdam. She currently lives and works in New York. Videos of Keren Cytter were displayed in solo exhibitions such as:
Frankfurter Kunstverein and Kunsthalle Zurich both in 2005, I was the good was the bad and the ugly,
Kunst-Werke Berlin in 2006, The Victim, MUMOK Vienna in 2007,
Witte de With, Rotterdam in 2008 and at Le Plateau Paris in 2009,
Kunsthaus Basell and Moderna Museet, Stockholm in 2010.
Recent Group exhibitions include Making Worlds curated by Daniel Birnbaum at Venice Biennial 2009.
In 2006, Keren Cytter won the Baloise Art Statement Award at Art Basel and in 2009. 
Moreover, Keren Cytter was nominated for the prestigious Preis der Nationalgalerie für junge Kunst in Berlin.