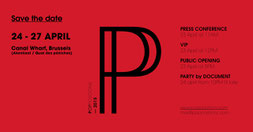 Supported by Österreichisches Kulturforum, Brussels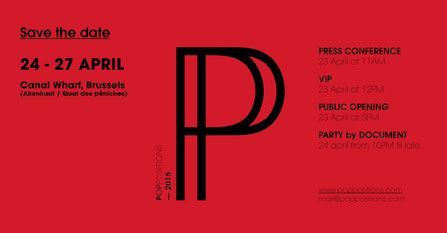 Five Collectors Band Together to Dispel Speculative Market for Emerging Art
APR 15TH, 2015 3:37 PM
For its fifth edition, experimental Brussels-based fair, POPPOSITIONS, has turned the tables on the collectors who typically populate art fair aisles. While a strong contingent of galleries still make up the selling portion of the affair, POPPOSITIONS also tapped five top-notch Belgian collectors to present "Do you have 'barbaric taste'?" a selection of recent acquisitions over 600 square meters of exhibition space. POPPOSITIONS is a young, international fair, based in an old post office building and focusing on 40 young galleries, nonprofit and artist-run spaces, and curatorial initiatives. Liv Vaisberg founded the fair four years ago to run alongside Art Brussels. "We are positioning ourselves as an ongoing critical discourse of the fair model—recognizing it as a necessary evil. We want to show that we can experiment on the art economy outside the prevailing art market models," she explains.
The show, which takes place over an entire floor of the fair, includes 800 works lent by five major collectors—Galila Hollander, Benoît du Roy, Frédéric de Goldschmidt, Cédric and Cookie Liénart van Lidth de Jeude, and Alain Servais. All the pieces on display have been acquired in the last 10 years and cost under 8,000 euros each. The exhibition itself is being curated not by the collectors but by the outside team of Les Commissaires Anonymes and Nicolas de Ribou, who oversees Servais's personal collection.
"The Belgian collecting scene favors sharing and cooperation rather than competition," Servais points out. "Many collectors and particularly those five involved are often visiting each other, discussing their acquisitions and sharing information." Servais and de Goldschmidt have been supporters of the fair since its second edition. When they discovered POPPOSITIONS had spare space in its 2015 edition, they proposed the concept of a self-financed exhibition and invited the others to take part.
"I am convinced that today is a time where a huge gap has opened up between the cultural and the monetary value of work, with a part of the art market trying to convince new buyers that what is expensive is relevant culturally," Servais notes. 

There is often a notable distance between the works being chased by the market that would fit into a more saleable space and the more challenging pieces that are praised by critics and institutions—especially with younger artists.The role of the collector here is interesting. Servais sees a Europe, which in the grip of austerity cuts is (sadly) moving more in line with the U.S., where the effective privatization of culture is normal. As de Goldschmidt notes, "In countries such as Belgium with little state support for the arts, contemporary artists would not be able to get recognition and exposure without collectors." Yet the breadth of taste and conversation within this project emphasizes a desire for creative collecting and new, outside-the-box ways to financially support the art world.
—Francesca Gavin
POPPOSITIONS runs April 24–27, 2015, Canal Wharf, Brussels.

Karl Karner and A|B|C ontemporary are supported by Österreichisches Kulturforum, Brussels
Fairs/Kunstmessen
Art Bodensee
Lake Constance

July 10-13, 2014

Black a question of the material?
Martin Gepp
Karl Karner
Andrea Bianconi
Bob Gramsma
'the-solo-project'
Basel, St. Jacobshalle,
16th of June - 22nd, 2014

Karl Karner
Aus meinem Samtkasten
SideEffects, Basel

16 -22 June, 2014

Hammerstr. 73

Territories-Identities - Space
Andrea Bianconi
Bruno Streich
Michael Hirschbichler
Baltensperger+Siepert
ZONA Maco

Mexico City, MX

January, 2014

Territories
Baltensperger+Siepert

SLICK Paris
24.-27.10.13
Identities
Jürgen Paas
Naoki Fuku
Paolo Grassino
Wojtek Klimek
Bruno Streich
Art Bodensee
Juli 2013
VIP ART FAIR FOTO
2012
Franziska Stuenkel
Rune Guneriussen
Paolo Grassino
Richard Caldicott
Antal Thoma
17.-20.11.2011
Lola Berenguer-Suarez
Richard Caldicott
Marc Fromm
Pe Lang
Huy Xuan Nguyen
Jorge Rubio
09.09.2011 - 11.09.2011
Marc Fromm
13.06.2011 - 19.06.2011
Marc Fromm
Young Lady With Pet 
Exhibitions/Ausstellungen
Géraldine et Tizian
Triennale UNIL Lausanne
Herbst 2013
Rune Guneriussen 
25.8. -1.9.2013
February 2013
Waltman Ortega Fine Art
Miami, United States
9th of February to 31st of March 
February 2013
Group exhibition, Rheingalerie
21st of February to 30th of March
March 2013
Solo exhibition, HLP Galerie
Cologne, Germany
17th of March to 28th of April 
March 2013
Duo exhibition, Galerie Brandt
Amsterdam, The Netherlands
1st of March to 30th of March 
John Trashkowsky
Paris, 7. - 15. März 2013
Atelier Z
rue du Grande Armée
Online
8. März 2013
Naoki Fuku
Sissach, Basel
Haus am Bach
20.2. - 22.3. 2013
SCOPE Art Fair, Basel
10.6. - 16.6.
Press/Compliments
55. Biennale di Venezia
Palazzo Bembo
Personal Structures
Marc Fromm
Vernissage 29. -31. Mai
23.08. - 01.09.
Art Walk
Rune Guneriussen 
Waldhaus Sils
August, 2013
Géraldine ét Tizian
Rune Guneriussen 2013
Issue 14 - Spring 2013
page 22
Pe Lang
Issue 52, p. 88-99
Rune Guneriussen
Elephant Magazine No.8 2011
Rune Guneriussen
Swiss Magazine
November 2011
Xuan Huy Nguyen
Elephant Magazine
'An interesting new player in the Zurich scene, with some pretty high-impact shows in its arsenal, such as the complex, and often heartbreaking, political-personal-historical satires of Vietnamese painter Xuan Huy Nguyen (the artists first exhibition in Switzerland), or the varied and surprising (it's rare to be able to use that latter adjective without irony in today's art world) paintings, photographs and installations of Swiss duo Bachmann/Banz'
Simon Menner,
Zürcher Kultur Mittwoch, 19.12.2012